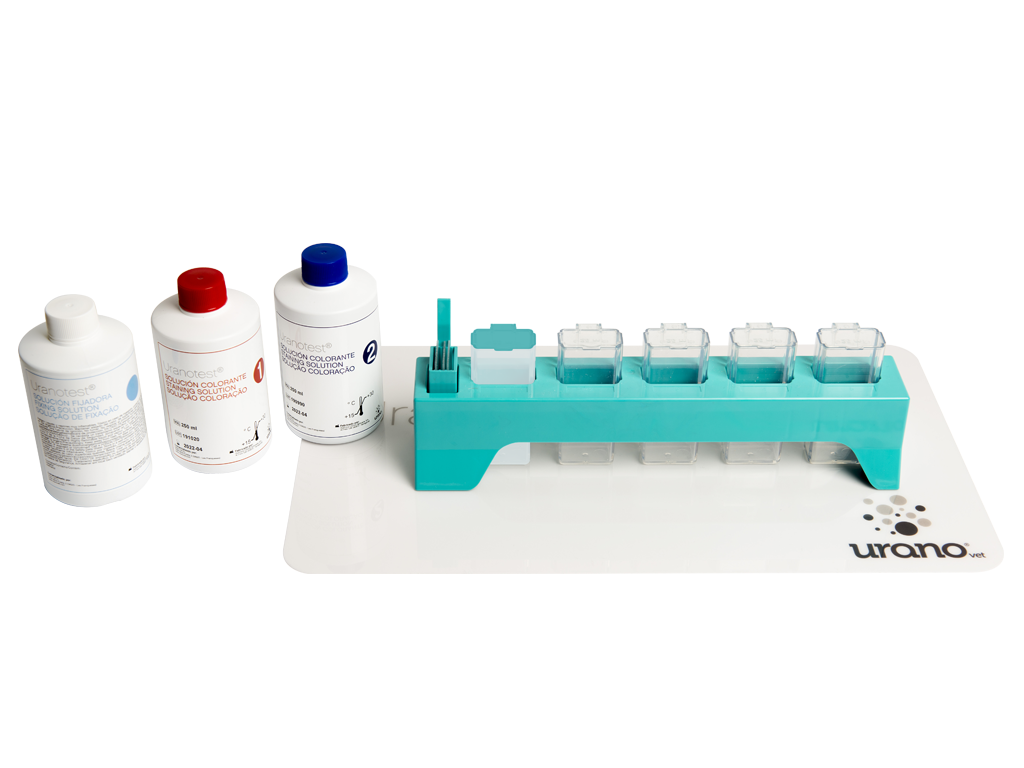 Diagnostic tests
Uranotest Staining Kit
The Uranotest® Staining Kit has been developed to meet the needs of the veterinary clinic for simpler, more accurate and reliable on-the-spot staining.
The kit has been designed to make the veterinarian's job easier and to minimize many of the errors usually made in daily practice with Romanowsky, fast panoptic or Diff Quik® stains.
Information for the veterinarian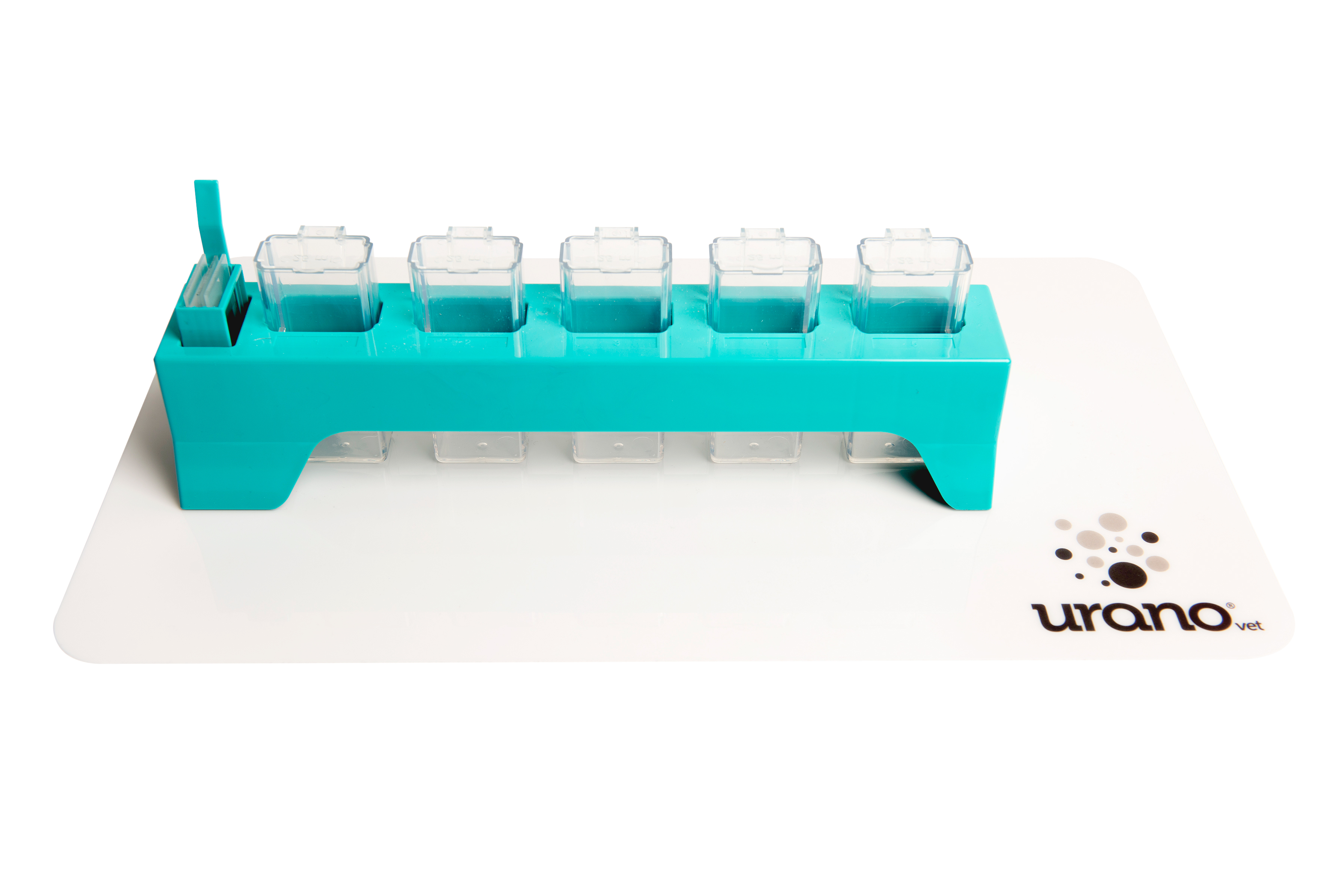 The kit contains:
Staining trays with lid:
The kit contains five 25 ml trays designed to contain the media commonly used in different stains.
Stand:
The stand holds the trays and prevents spillage during handling.
Basket:
The basket can hold up to 3 slides at a time, for easy handling.
Adhesive work mat:
Includes a large 40 cm x 23.5 cm work mat made of easy-to-clean vinyl material that sticks to the table for added
stability.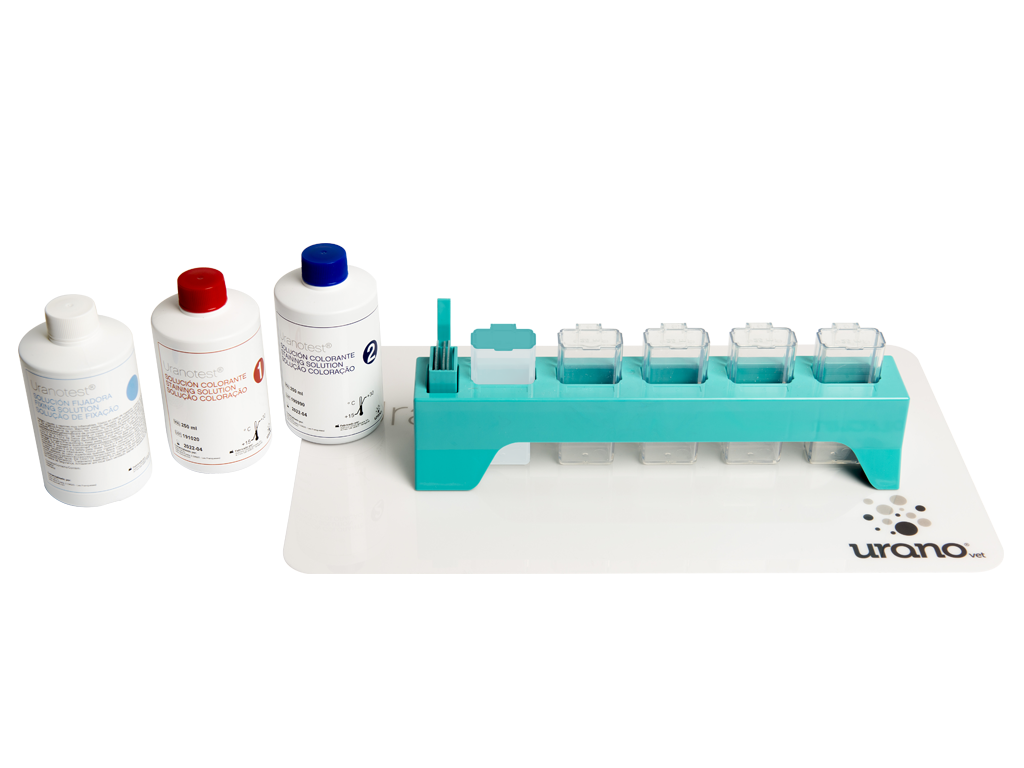 The trays have a capacity of 25 ml. Staining can be performed with the trays only half full (12-15 ml), allowing the media to be renewed far more frequently and economically.
The trays include a lid that minimises the risk of contamination and evaporation of the media.
The adhesive mat provides a comfortable and easy-to-clean work area that protects clinic and laboratory furniture from stains.
The kit comes with a solid, firm stand to hold the trays and avoid the spillage that can occur when inappropriate containers designed for other purposes are occasionally used for staining.
The transparent trays allow you to easily check that the liquids are always clean, with no artifacts, sediments or precipitates.
The basket can hold up to 3 slides at a time, allowing you to completely immerse them in the fixative, the dye solutions, and the wash water without staining your fingers.
Uranotest® Staining Pack
1 Uranotest® Staining Kit
Stand
5 trays
Basket for slides
Work mat
Instruction booklet for correct staining
1 250 ml bottle of Uranotest® fixative solution
1 250 ml bottle of Uranotest® stain solution 1 (red)
1 250 ml bottle of Uranotest® stain solution 2 (blue)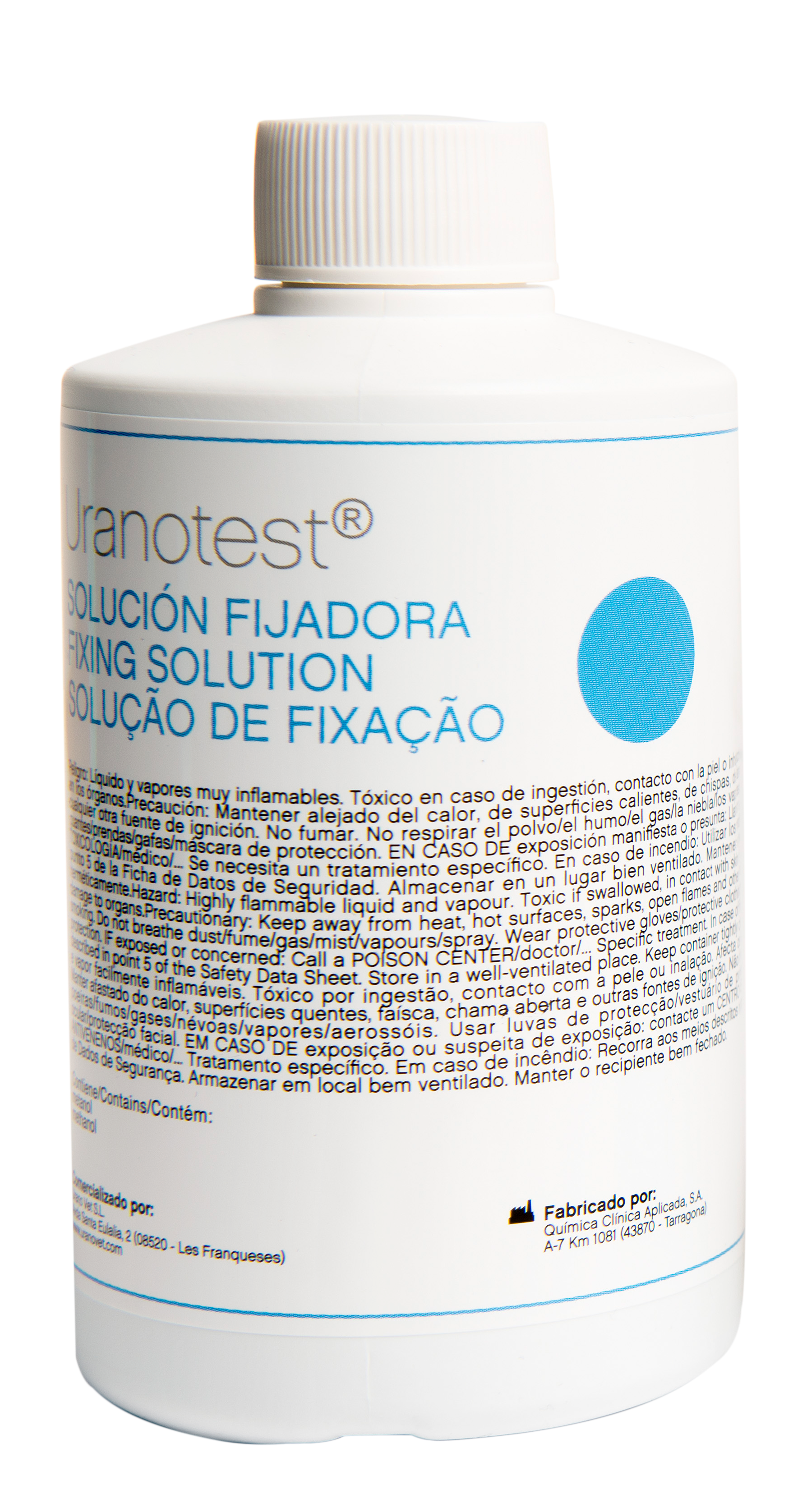 Uranotest® fixative solution 250 ml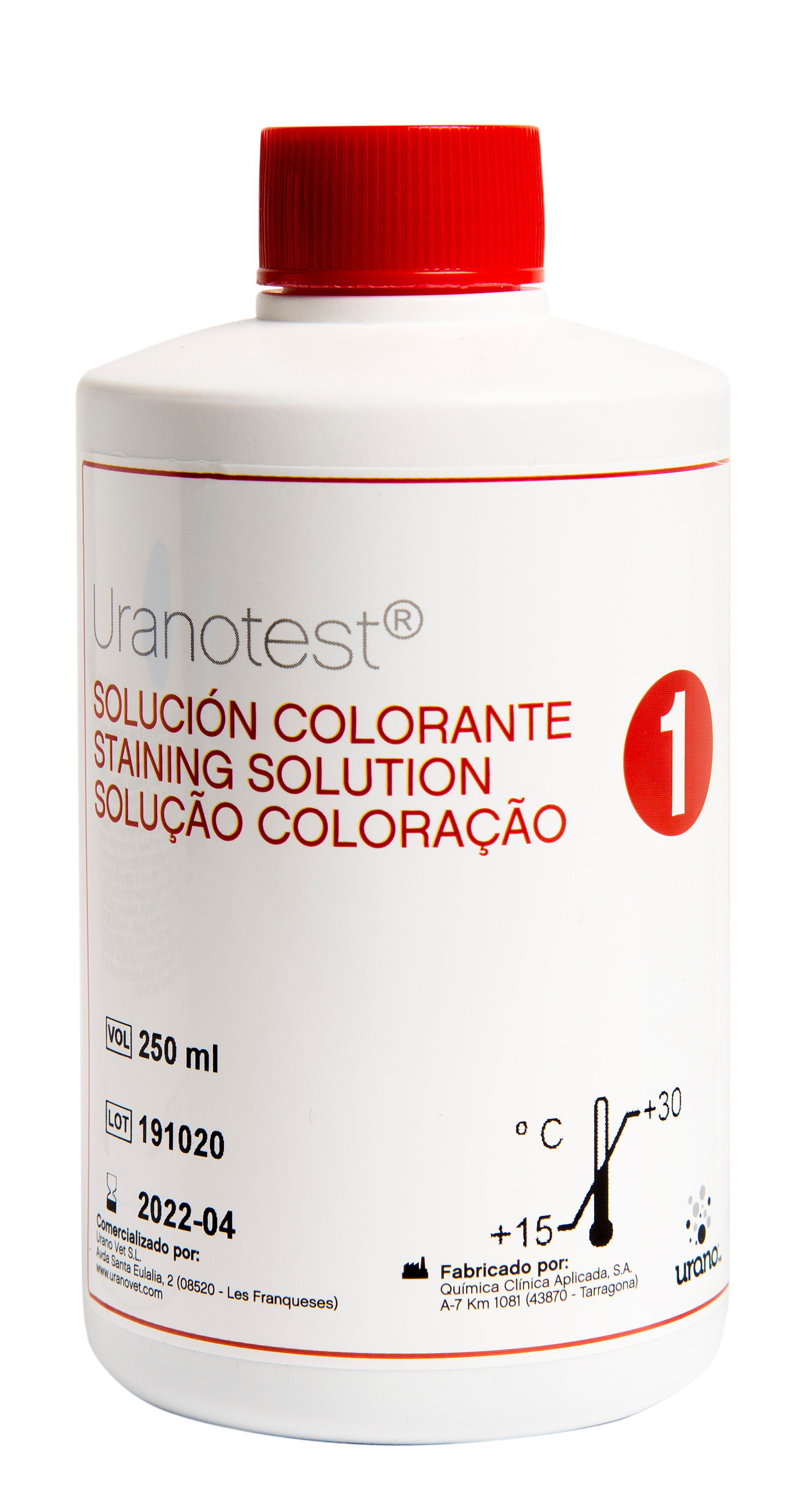 Uranotest® stain solution 1 (red) 250 ml*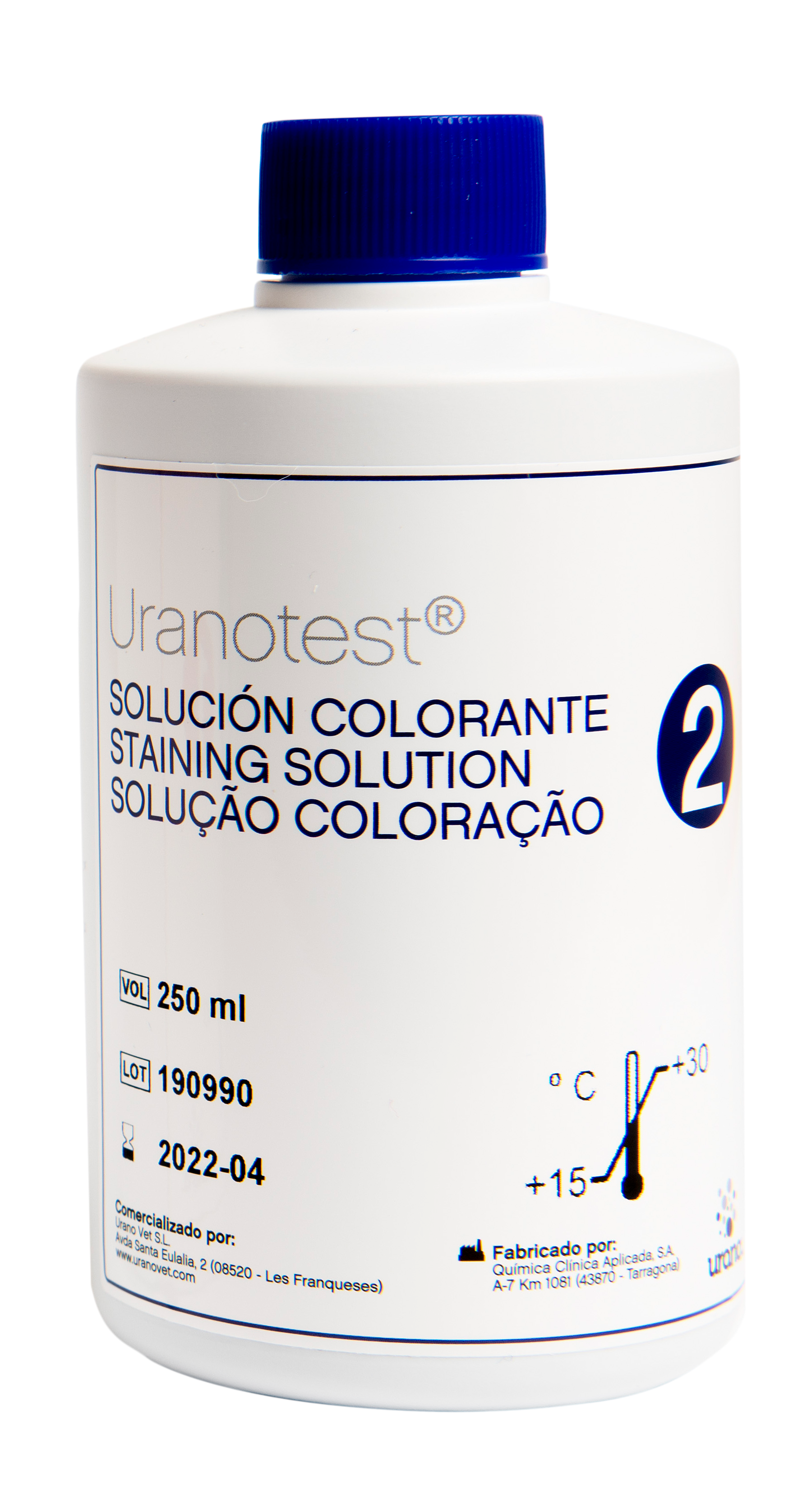 Uranotest® stain solution 2 (blue) 250 ml*

The fixative solution and stain solutions are sold separately. Bear in mind that the fixative solution tends to evaporate and is also used to send samples to the laboratory, so it is usually used in larger quantities than the stain solutions.
Many companies require you to purchase the complete kit with the fixative and both stains, leading to unnecessary wastage.
*Uranotest® solutions for Romanowski or rapid panoptic stains (same uses as Diff Quik® stains)
DOCUMENTATION FOR THE VETERINARY
DOWNLOAD PDFInsert UT Staining Kit
* This information is available only to veterinarians. Clicking the download link declares that possess appropriate qualifications to access the content..