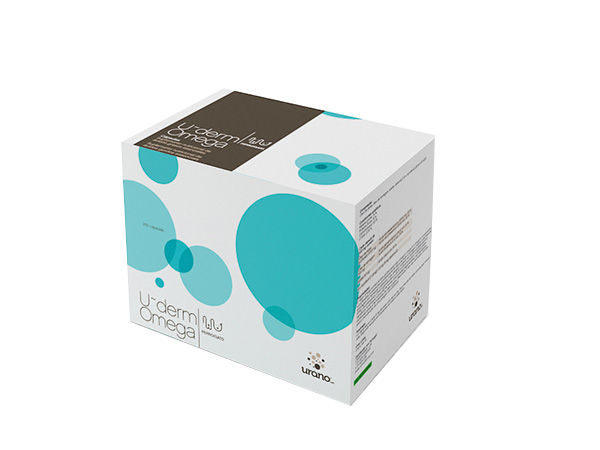 Dermatology
Uderm Omega Caps
U~derm Omega Caps contains essential fatty acids, mainly the series Omega 3 and Omega 6, concentrated and purified, coming from borage and fish oil. Its high content in eicosapentaenoic (EPA), docosehexaenoic (DHA) and gamma-linoleic (GLA) acids provides it with multiple effects that are beneficial in nutritional focus on certain degenerative, dermatological, cardiovascular and rheumatoid diseases in dogs and cats.
Essential fatty acids are essential constituents of the tissues that are not synthesised by the body, and must therefore be provided with diet.
Available formats: 40 gel caps / 260 gel caps.
Characteristics
Omega 3-6-9 fatty acids with high concentration of EPA and DHA: 206 mg EPA and DHA per capsule.
Excellent palatability.
Information for the veterinarian
Composition per capsule
Omega 3
375,5 mg of purified fish oil:
Eicosapentaenoic acid (EPA) 124 mg
Docohexanoic acid (DHA) 83 mg
Omega 6
100 mg of purified borage oil:
Gammalinolenico acid (GLA) 20 mg
Linolenic acid (LA) 34 mg
Omega 9
50 mg of purified olive oil:
Oleic acid 27 mg
Vitamina E
d-α tocoferol:
7.5 mg
Dosage
1 capsule per 10kg of weight.
Twice the recommended dose can be used for the treatment of certain pathologies when so directed by the veterinarian.
Capsules can be given directly by mouth or can be punctured and added to food.
DOCUMENTATION FOR THE VETERINARY
DOWNLOAD PDFTechnical datasheet
* This information is available only to veterinarians. Clicking the download link declares that possess appropriate qualifications to access the content..