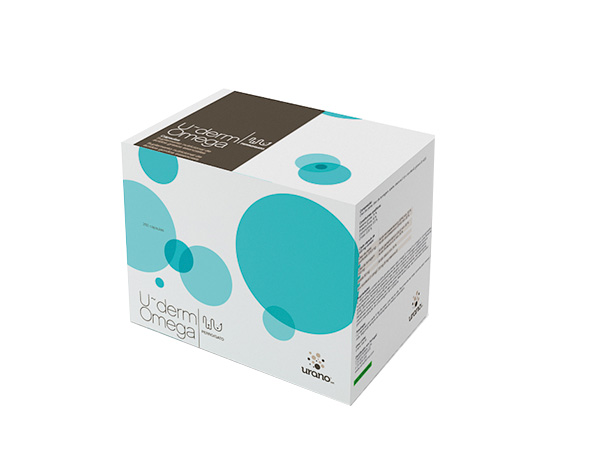 Dermatology
Uderm Omega Caps
U~derm Omega Caps contains essential fatty acids, mainly the series Omega 3 and Omega 6, concentrated and purified, coming from borage and fish oil. Its high content in eicosapentaenoic (EPA), docosehexaenoic (DHA) and gamma-linoleic (GLA) acids provides it with multiple effects that are beneficial in nutritional focus in dogs and cats. In addition, their continued use helps to maintain a healthy and shiny coat.
Essential fatty acids are essential constituents of the tissues that are not synthesised by the body, and must therefore be provided with diet.
Available formats: 40 gel caps / 260 gel caps.
Characteristics
Omega 3-6-9 fatty acids with high concentration of EPA and DHA: 206 mg EPA and DHA per capsule.
Excellent palatability.
Information for the veterinarian
Composition per capsule
Omega 3

375,5 mg of purified fish oil:

Eicosapentaenoic acid (EPA) 124 mg
Docohexanoic acid (DHA) 83 mg

Omega 6
100 mg of purified borage oil:

Gammalinolenico acid (GLA) 20 mg
Linolenic acid (LA) 34 mg

Omega 9
50 mg of purified olive oil:
Vitamina E

d-α tocoferol:
Dosage
1 capsule per 10kg of weight.
Always follow the veterinarian's indications.
Capsules can be given directly by mouth or can be punctured and added to food.