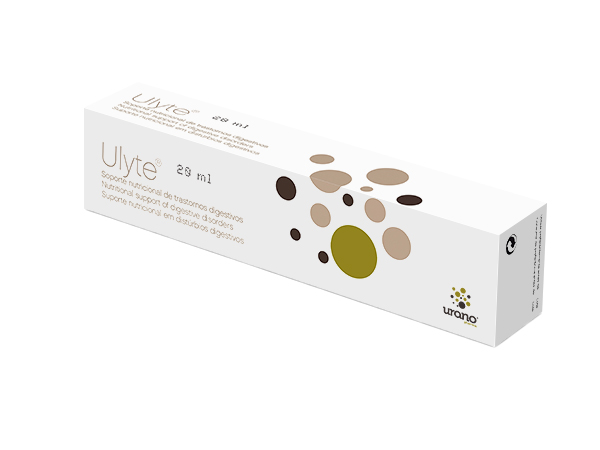 Digestive
Ulyte Gel
Ulyte Gel is a nutritional support for:
Digestive disorders.
Gastrointestinal disorders caused by alterations or changes in diet.
Digestive alterations caused by an imbalance in intestinal microflora.
Whenever balance in the intestinal flora must be re-established and/or maintained.
Information for the veterinarian
It is recommended to administer twice a day for 2 days.
| | <10 Kg | 11-25 kg | 26-40 kg | >40 kg |
| --- | --- | --- | --- | --- |
| Intake | 2 ml | 4 ml | 6 ml | 8 ml |
Remove the cap from the tip of the syringe.
To obtain the desired amount, turn the wheel to select the required ml. Each division corresponds to 1 ml. After selecting the adequate amount, press the plunger and apply directly to the animal's mouth (for one side) depositing the paste on the back of the tongue to facilitate digestion.
Source of prebiotics for the recovery of altered intestinal flora
Prebiotics (FOS) are essential for the recovery of the altered intestinal mucosa and the re-establishment of the intestinal defensive barrier.
Stool compacting action
Carob flour, together with montmorillonite, is very effective in compacting faeces and normalising intestinal transit time.
Adsorbent of external agents
Montmorillonite and activated carbon act as an adsorbent for toxins, viruses and pathogenic bacteria.
Control of borborygmi and flatulence associated with digestive disturbances
Activated charcoal acts as a powerful gas bio-trapping agent in the intestine.
Electrolyte supply to restore water-electrolyte balance
Ulyte contains electrolytes that help prevent dehydration when diarrhoea is prolonged and/or severe.
Providing a source of energy
Dextrose and sorbitol provide a source of energy that is released gradually to aid the pet's recovery process.
Recovery of the altered enterocyte
Thanks to the action of glutamine.
DOCUMENTATION FOR THE VETERINARY
DOWNLOAD PDF
* This information is available only to veterinarians. Clicking the download link declares that possess appropriate qualifications to access the content..