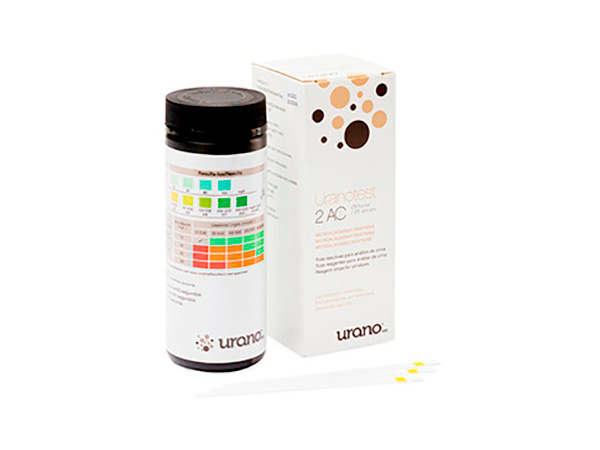 Diagnostic tests
Uranotest 2AC
Semi-quantitative detection of microalbumin and creatinine.
Possibility of establishing microalbumin/creatinine ratio.
Specs
Purpose
Semi-quantitative detection of microalbumin and creatinine.
Possibility of establishing MICROALBUMIN/CREATININE ratio.
Sample:
Urine
Reading time:
60 seconds.
Visual or automatic reading with URANOTEST READER.
Conduction time:
Less than 1 minute
Format:
Tube with 25 strips
Characteristics
Microalbumin is an early indicator for kidney damage or illness and can help in diagnosing underlying illnesses in apparently healthy pets.
Detecting microalbumin in urine is an earlier indicator of kidney damage than UPC.
Diagnostic use:

Kidney damage evaluation in dogs affected by Leishmaniosis, Ehrlichiosis, Dirofilariosis, FeLV, FIV, PIF.
Evaluation of kidney damage in neoplasms and inflammatory diseases (periodontal, pyoderma, immune-mediated diseases, etc.)
Treatment monitoring for kidney insufficiency.
Monitoring of kidney failure with potentially nephrotoxic drugs.
Geriatric exams.
Kidney disease prevention campaigns.
Pre-surgical examinations.
Information for the veterinarian
Use of refrigerated urine sample without tempering.
Use of non-recent urine (it is preferable to perform the urinalysis within 30 minutes after collection to avoid contamination, pH changes and compound degradation).
Use of expired dipsticks, or dipsticks exposed to air due to poor storage.
Reading the dipstick at a time other than recommended.
Reading the strip in vertical position (this does not occur with automatic reading with the aid of the reader).
Contamination of the sample with disinfectants.
Prolonged immersion of the dipstick in urine (may cause alteration of the colorimetric reaction) or non-elimination of excess urine with the aid of an absorbent material.
Touching the reactive zone on the dipstick with fingers (colours may be altered).
Very pigmented or turbid urine (prior centrifugation is recommended).
lnadequate light or visual difficulty for observer (this does not occur with that automatic reading with the aid of the reader).
Normal
Abnormal
Colour
Yellow or amber
Very dark yellow: concentrated, bilirubinous urine
Red, dun, brown: haematuria, haemoglobin, myoglobinuria.
Greenish: bilirubinous
Milky white: puss, phosphate crystals
Transparency
Clear
Turbid due to semen, bacteria, lipids, mucous, faecal contamina-tion, crystals, red blood cells, white blood cells, epithelial cells
Odour
Soft odour that may be very intense with sorne species (adult male cat urine has a characteristic odour)
Ammonia odour due to action of positive urease bacteria hydrolysing the urea
Volume
Dog: 25-30 ml/kg/day
Cat: 18-25 ml/kg/day
Oliguria
Anuria
DOCUMENTATION FOR THE VETERINARY