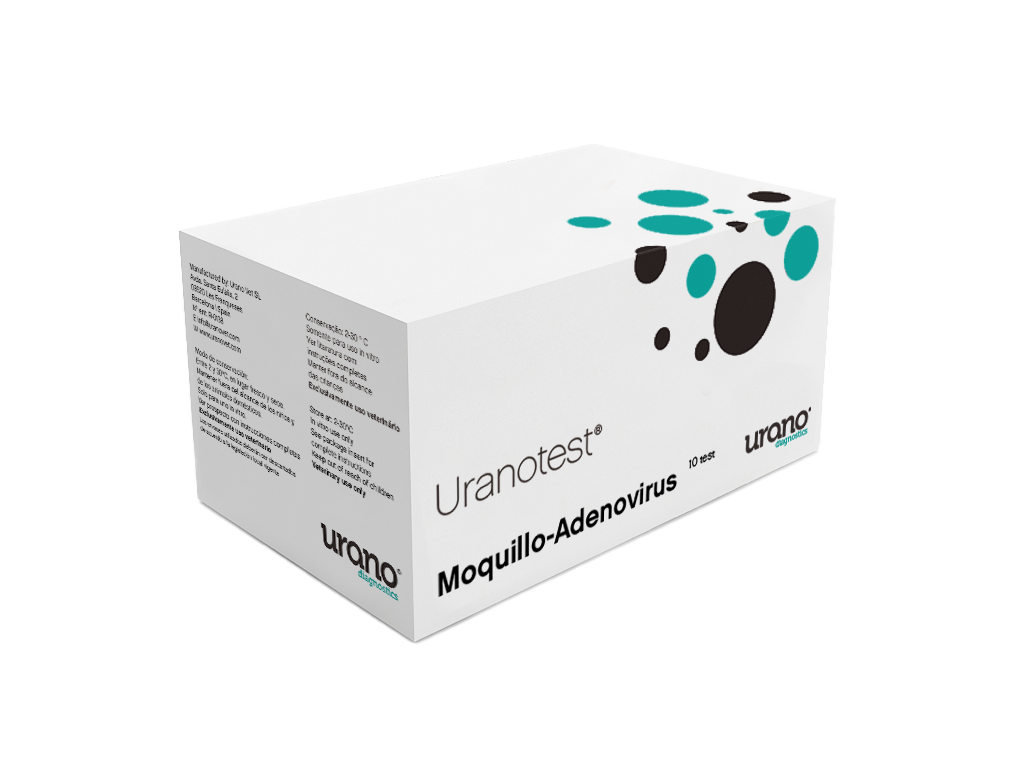 Diagnostic tests
Uranotest Distemper-Adenovirus
Simultaneous detection and differentiation of the Distemper virus and Canine Adenovirus antigen in conjunctival secretion.
Specs
Purpose:
Simultaneous detection and differentiation of the Distemper virus and Canine Adenovirus antigen
Sample:
Epithelial conjunctival cells
Sensitivity:
Distemper 99% versus PCR
Adenovirus 94% versus PCR
Specificity:
Distemper 98% versus PCR
Adenovirus 97% versus PCR
Execution time:
1 minute
Reading time:
5-10 minutes
Format:
Boxes with 5 tests
Registration No:
2187 RD
Characteristics
This allows for differential respiratory diagnostic of Distemper and Adenovirus.
Important both in diagnosis and in evaluating infectious potential of affected dogs.
Information for the veterinarian
The Uranotest Distemper-Adenovirus diagnostic kit is based on the immunochromatographic technique and is designed for the qualitative detection of Canine Adenovirus (CAV) and Distemper virus (CDV) (usually involved in the "kennel cough" disease) in canine conjunctives.
The test has a double structure; it contains two single tests: a strip for CDV antigen detection and a strip for CAV antigen detection. Each test consists of several overlapped membranes. On one of the membranes, there are a test line (T line) and control line (C line). The lines are not visible before applying the sample. After applying the sample in the appropriate sample well, migration begins by capillarity action through the membrane. If the result is negative, one purple colour band appears in the C area. This line, called control line, always appears, as it is a control line indicating that the test has successfully performed. If the test result is positive, in addition to the control line, a second line will form in the test area (Test line).
Double test devices individually packaged in aluminium pouch.
Tubes with buffer solution for sample dilution.
Swabs for sample collection.
Disposable pipettes.
Instructions for use.
For veterinary use only.
Wear disposable gloves when handling the samples. All samples should be treated as potentially infectious. Wash and disinfect hands after handling. Avoid aerosol formation when dispensing the sample.
To obtain good results, it is important to add the correct sample volume.
Open the device just before use.
All reagents must be at room temperature before performing the test.
Do not use the test if the envelope is damaged or broken.
Do not re-use.
Do not use reagents after the expiry date.
The quality of each component of the kit has been individually assessed for each batch. Do not mix components or reagents from kits with different batch numbers.
DOCUMENTATION FOR THE VETERINARY