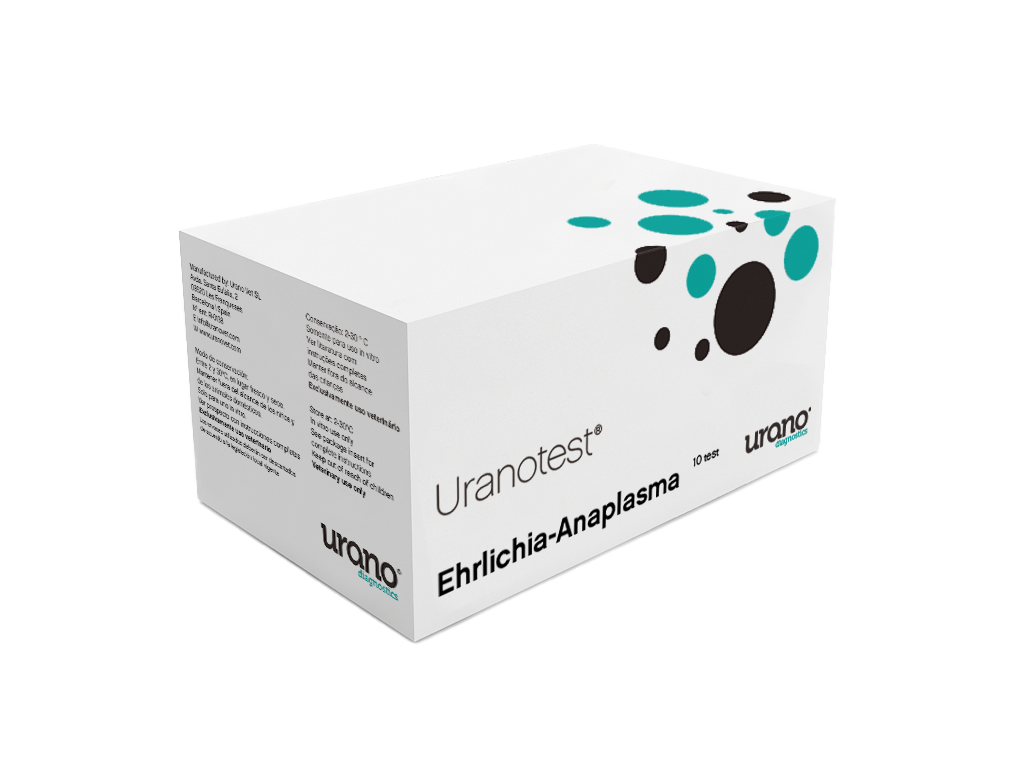 Diagnostic tests
Uranotest Ehrlichia-Anaplasma
Detection of Ehrlichia canis and Anaplasma antibodies in blood, serum and plasma
Test available for reading in the Uranotest Smart Reader app.
Specs
Purpose:
Simultaneous detection of antibodies against Ehrichia canis and Anaplasma
Sample:
Whole blood, serum, plasma
Sensitivity:
Ehrlichia 95 % versus IFI
Anaplasma 96 % versus IFI
Specificity:
Ehrlichia 95 % versus IFI
Anaplasma 96 % versus IFI
Reading time:
15 minutes
Presentation:
Boxes with 5 or 10 tests
Characteristics
It detects Ehrlichid and Anaplasma separately for the best diagnostic and prognosis.
Precise capillary tube incorporated to dispense an exact volume of the sample.
Simple 2-step technique: save time and prevent mistakes.
Information for the veterinarian
Remove the test device from the protective pouch and place it on a flat and dry surface.
Take the sample with the capillary by pressing below the flattened end. When you stop pressing it, the volume will reach the black line marked at the end.
Add the amount provided by the capillary on the Ehrlichia sample well.
Add 2 drops of buffer solution on the Ehrlichia sample well (Developing buffer)*.
Repeat exactly the same procedure for the Anaplasma sample well.
Read the results within 15 minutes. After this time, the result is not valid.

DOCUMENTATION FOR THE VETERINARY