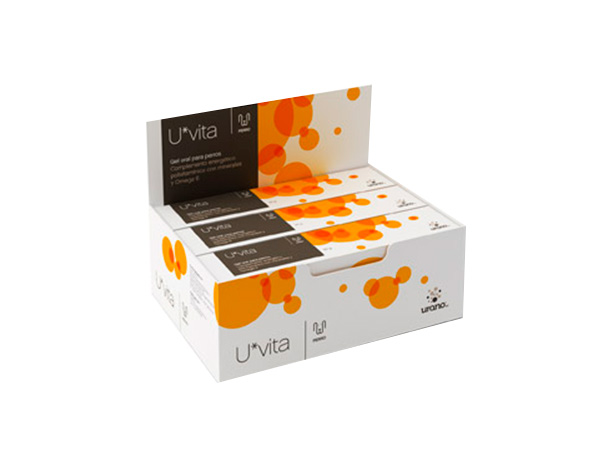 Nutritional supplements
U*vita Oral gel for dogs
Vitamins, minerals and essential amino acids to maintain vital functions and to recover energy and vitality in your pet.
Multi-vitamin energetic supplement with minerals and Omega 6.
50 grams.
Characteristics
Contents per tablet: Vitamin A 900 U.I; Vitamin B1 400 µg; Vitamin B2 400 µg; Vitamin B6 200 µg; Vitamin B12 6 µg; Vitamin C 20 mg; Vitamin D 90 UI; Vitamin E 10 mg; Pantothenic acid 450 µg; Niacin 1,8 mg; Iron 3 mg; Copper 750 µg; Cobalt 250 µg; Manganesium 1mg; Zinc 1mg; all 300 µg; Magnesium 4 mg; Phosphorous 186 mg; Calcium 240 mg;, Ginseng (Panax Ginseng C.A Meyer) 10 mg; Gingko Biloba 4 mg.
Indications: U* vita is a nutritional supplement specially designed for use in pets which, thanks to the combination of vitamins, minerals, Ginseng extract and Ginkgo Biloba, acts effectively to prevent deficiency diseases. Its use is particularly indicated in dogs that have increased nutritional needs due to growth, intense activity, disease, treatment with antibiotics, loss of appetite, or any other organic process where the nutritional needs are increased or an extraordinary nutritional contribution is required. In addition to containing 10 vitamins and 9 minerals that are essential for the maintenance of vital functions, it incorporates extract of Ginseng and Gingko Biloba.
Ginseng and Gingko Biloba are well known for their properties as antioxidants and as stimulants of the central nervous system, helping to increase brain activity, improve performance and combating asthenia.
Contraindications: not to be administered together with vitamin D supplements without consulting a veterinarian.
Method of administering: U*vita is administered directly by mouth or mashed or chopped up in food.
Dosage: ½ tablet/day for small breeds. 1 tablet/day for medium-sized breeds. 2 tablets/day for large breeds. The tablets are dividable to adjust the dosage to different weights. A treatment period of 15.20 days is recommended.
Other recommendations: follow the instructions of the veterinarian at all times.
Preservation method: keep the container closed at all times and store in a cool dry place.
Presentation: bottle with 50 tablets.
Information for the veterinarian
| | |
| --- | --- |
| 11 Vitamins | A, B1, B2, B6, B12, Pantothenic acid, Niacin, D, E, Folic acid, Biotin |
| 8 Minerals | Ca, P, K, Fe, Co, Mn, Zn, Iodine |
| Omega 6 | Gamma linolenic acid |
| Energy | 550Kcal / 100g |
DOCUMENTATION FOR THE VETERINARY
DOWNLOAD PDFBrochure
* This information is available only to veterinarians. Clicking the download link declares that possess appropriate qualifications to access the content..