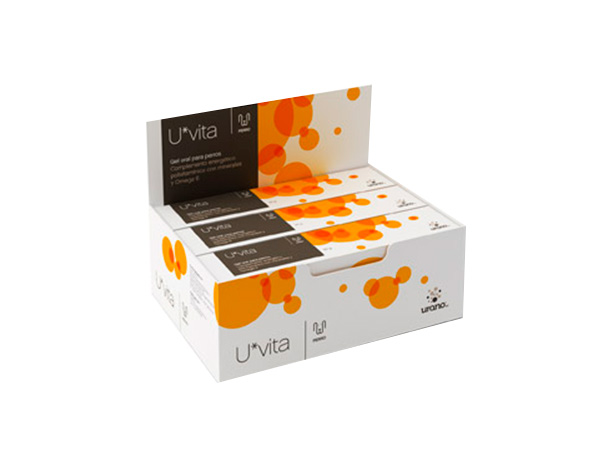 Nutritional supplements
U*vita Oral Gel for dogs
Vitamins, minerals and essential amino acids to maintain vital functions and to recover energy and vitality in your pet.
Multi-vitamin energetic supplement with minerals and Omega 6.
Specs
Contents per tablet:
Vitamin A 27.500 IU, Vitamin B1 5.000 ?g, Vitamin B2 25.000 ?g, Vitamin B6 5.000 ?g, Vitamin B12 125 ?g, Niacin 62.500 ?g, Biotin 25 mg, Folic acid 1.000 ?g, Vitamin D3 1.000 IU, Vitamin E 275 mg, Taurine 125 mg, Iron (iron fumarate) 25 mg, Manganese (manganese sulphate monohydrate) 7,5 mg, Zinc (zinc oxide) 7,5 mg, Iodine (calcium iodate) 2,5 mg, Calcium 0,04%, Phosphorus 0,12%, Potassium 0,02%
Indications:
U*vita oral gel is a nutritional supplement with excellent palatability specially designed for use in dogs. Its combination of vitamins, minerals, taurine and essential fatty acids omega 6 provides an extraordinary dose of energy and nutrients to their habitual diet
Contraindications:
Do not administer together with vitamin D supplements without consulting a veterinarian
Route of administration:
U*vita oral gel is administered orally directly into the mouth or mixed with the food
It has an excellent palatability so in most cases the intake dose will be voluntary
In case of refusal, mix the gel with a very appetizing food for the pet
Dosage:
Administer 2 cm of gel (equivalent to 1.15 g) per 5 kg of body weight per day
In convalescent dogs with no additional source of food, it is recommended to administer 4 cm of gel (equivalent to 2.30 g) per 5 kg of body weight per day, applied in several doses
Always follow the directions of your veterinarian
Storage:
Keep closed in a cool and dry place
Keep out of reach of children
Presentation:
Tube with 50g
Information for the veterinarian
| | |
| --- | --- |
| 11 Vitamins | A, B1, B2, B6, B12, Pantothenic acid, Niacin, D, E, Folic acid, Biotin |
| 8 Minerals | Ca, P, K, Fe, Co, Mn, Zn, Iodine |
| Omega 6 | Gamma linolenic acid |
| Energy | 550Kcal / 100g |
DOCUMENTATION FOR THE VETERINARY
DOWNLOAD PDFUvita Brochure
* This information is available only to veterinarians. Clicking the download link declares that possess appropriate qualifications to access the content..