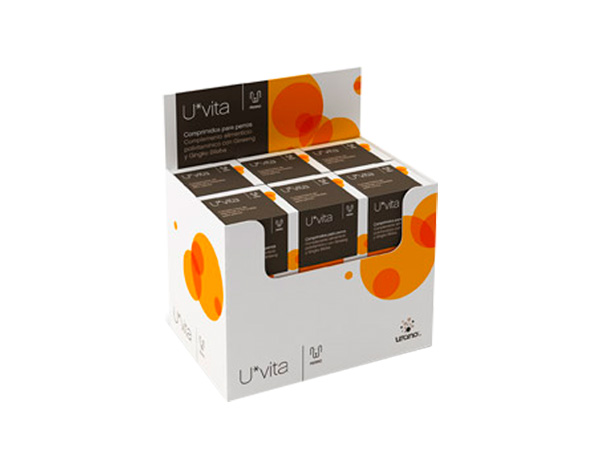 Nutritional supplements
U*vita Tablets for dogs
Vitamins, minerals and essential amino acids to maintain vital functions and to recover energy and vitality in your pet.
Multi-vitamin dietary supplement with minerals, Ginseng and Gingko Biloba.
Specs
Content per tablet:
Vitamin A 900 IU, Vitamin B1 400 ?g, Vitamin B2 400 ?g, Vitamin B6 200 ?g, Vitamin B12 6 ?g, Niacin 1,8 mg, Vitamin C 20 mg, Vitamin D3 90 IU, Vitamin E 10 mg, Iron (iron fumarate) 3 mg, Copper (copper sulphate pentahydrate) 750 ?g, Manganese (manganese sulphate monohydrate) 1 mg, Zinc (zinc oxide) 1 mg, Iodine (calcium iodate) 300 ?g, Ginseng (Panax ginseng C.A. Meyer) 10 mg, Gingko biloba 4 mg
Indications:
U*vita tablets is a nutritional supplement specifically designed for use in pets. Its composition based on 9 vitamins and 8 minerals, Ginseng extract and Gingko biloba acts effectively for the maintenance of vital functions
Contraindications:
Do not administer together with vitamin D supplements without consulting a veterinarian
Route of administration:
U*vita tablets are administered orally directly or crushed or chopped with food
Dosage:
- Small breeds: ½ tablet per day
- Medium breeds: 1 tablet per day
- Large breeds: 2 tablets per day
The tablets are breakable to be able to adjust the dosage to the different breeds
A treatment period of 15-20 days is recommended
Always follow the directions of your veterinarian
Storage:
Keep closed in a cool and dry place. Keep out of reach of children
Presentation:
Bottle with 50 tablets
Information for the veterinarian
| | |
| --- | --- |
| 10 Vitamins | A, B1, B2, B6, B12, Pantothenic acid, Niacin, D, E , C |
| 9 Minerals | Ca, P, K, Fe, Co, Mn, Zn, Iodine, Cu |
| Ginseng | A natural stimulant that increases vitality and physical and mental performance |
| Ginkgo Biloba | Rich in flavonoids with an antioxidant action |
DOCUMENTATION FOR THE VETERINARY
DOWNLOAD PDFUvita brochure
* This information is available only to veterinarians. Clicking the download link declares that possess appropriate qualifications to access the content..