Dermatology
Imagine Dermo
Tyndallised probiotics represent an evolution in probiotics.act as if they were prebiotics, providing the substrate necessary for the typical microbiota of each individual to proliferate exponentially. Tyndallisation is a sterilisation method using intermittent heating.
Imagine® Dermo is a product that unites the advantages of tyndallised probiotics with the action of the known essential fatty acids.
Information for the veterinarian

Composition per capsule
Omega 3
525,5 mg of purified fish oil:

Eicosapentaenoic acid (EPA) 184 mg
Docosahexaenoic acid (DHA) 131 mg

Vitamin E
d-α tocoferol:
Indications
1 capsule per 15 kg of body weight.
The capsules can be administered directly into the mouth or can be punctured and added to food.
The gut microbiota provides the host with significant metabolic and immunological benefits. Many studies in humans and animals suggest that the influence of gut microbiota goes beyond the gut itself, affecting for example the skin.
There is a close relationship between a stable gut microflora and healthy skin.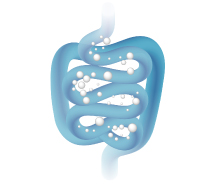 | Maintenance of the dermal function | Modulation of the immune system |
| --- | --- |
| The combination of fatty acids and probiotics helps modulate the immune response and maintain correct gut permeability, thus helping to restore the intestinal barrier and the dermatological barrier. | Maintains a stable immune system by balancing the gut microbiota. |
Greater stability
Longer expiry periods.
No side effects
As they are obtained from dead strains, they do not cause microbial displacement or overgrowth due to competition with indigenous gut microbiota.
Improved gut microbiota
They maintain the beneficial effects of probiotics: defence against external pathogens, stimulation of the immune system, etc.
No special storage conditions required
All the properties of the probiotics are preserved.
DOCUMENTATION FOR THE VETERINARY