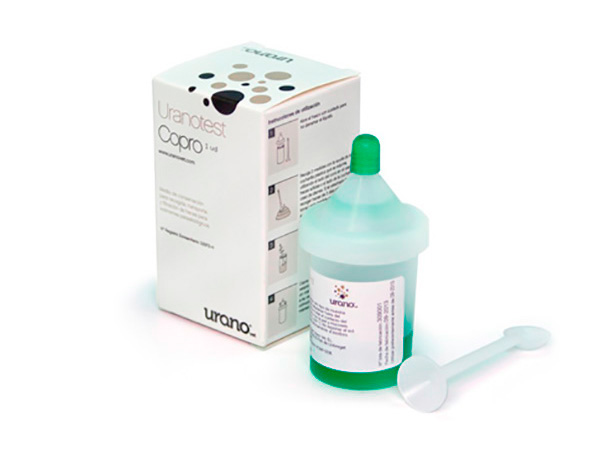 Diagnostic tests
Uranotest Copro
We make coprological analysis easy.
Format: 24-unit box.
Uranotest Copro is a device that simplifies coprological examination, from the process of sample collection by the owner until the completion of the parasitological examination at the clinic.
Without odours or handling of stools.
Information for the veterinarian
When the vet receives the sample from their client, all that is required is to follow these simple steps:

Convenience and hygiene for both the owner and the vet.
No unpleasant odours or handling of the stools.
The stool sample can be preserved at room temperature for up to 15 days.
It significantly reduces the time of diagnosis and therefore the costs for the clinic.
The system used in Uranotest Copro has been voted one of the 8 most innovative technologies by the WHO, for its high performance in parasitological examinations and the way it aids the routine of the laboratory technician.
DOCUMENTATION FOR THE VETERINARY