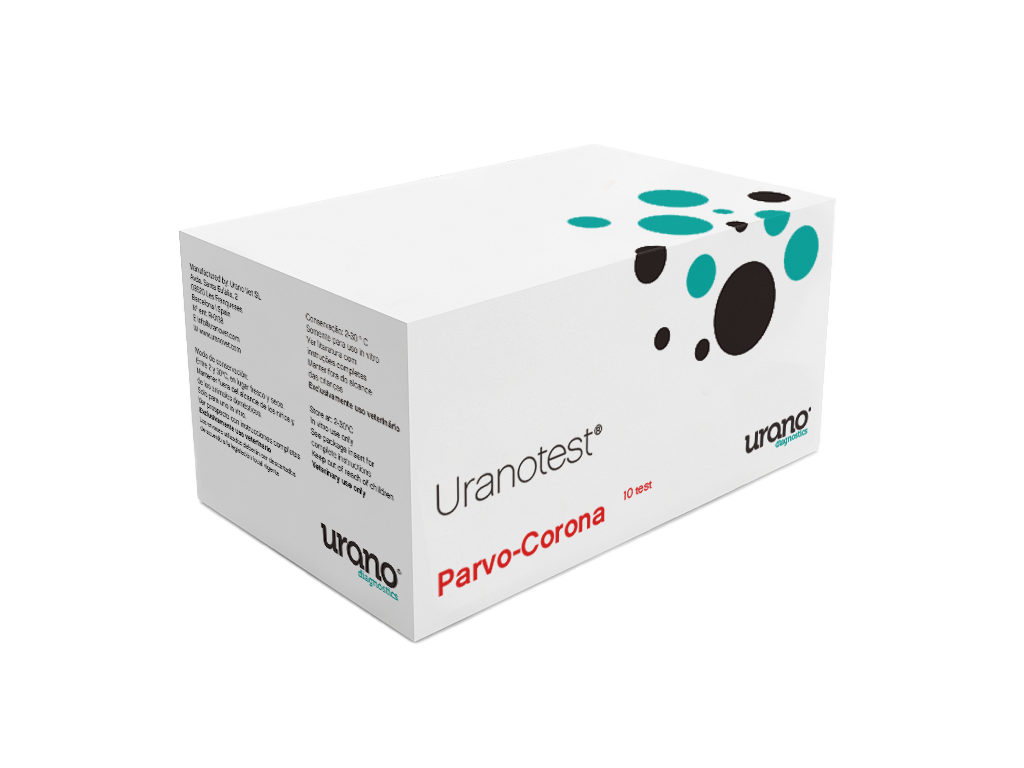 Diagnostic tests
Uranotest Parvo-Corona
Simultaneous detection of canine Parvovirus and Coronavirus antigen in faeces.
Test available for reading in the Uranotest Smart Reader app.
Specs
Purpose:
Simultaneous detection of the Canine Parvovirus (CPV) and Canine Coronavirus (CCV) antigen
Sample:
Faeces
Sensitivity:
Parvovirus 100% versus hemagglutination
Coronavirus 94 % versus RT-PCR
Specificity:
Parvovirus 99% versus hemagglutination
Coronavirus 97 % versus RT-PCR
Execution time:
2 minutes
Reading time:
5 - 10 minutes
Presentation:
Boxes with 5 or 10 tests
Characteristics
Early detection of virus in faeces, even before the appearance of symptomatology.
Detects the new CPV2c strain.
Does not detect antigens of vaccination origin.
No crossed reactions with distemper virus, infectious hepatitis, parainfluenza and intestinal parasites.
High sensitivity: detection limits at 103'0 TCID50 /ml of parvovirus antigen and 103'0 TCID50 /ml of coronavirus antigen.
Information for the veterinarian
The Uranotest Parvo-Corona diagnostic kit is based on the immunochromatographic technique and is designed for the qualitative detection of Canine Parvovirus (CPV) and Canine Coronavirus (CCV) in faeces.
The test has a double structure; it contains two single tests: a strip for CPV antigen detection and a strip for CCV antigen detection. Each test consists of several overlapped membranes. On one of the membranes, there are a test line (T line) and control line (C line). The lines are not visible before applying the sample. After applying the sample in the appropriate sample well, migration begins by capillarity action through the membrane. If the result is negative, one purple colour band appears in the C area. This line, called control line, always appears, as it is a control line indicating that the test has successfully performed. If the test result is positive, in addition to the control line, a second line will form in the test area (Test line).
Double test devices individually packaged in aluminium pouch.
Tubes with buffer solution for sample dilution.
Swabs for sample collection.
Disposable pipettes.
Instructions for use.
For veterinary use only.
Wear disposable gloves when handling the samples. All samples should be treated as potentially infectious. Wash and disinfect hands after handling. Avoid aerosol formation when dispensing the sample.
To obtain good results, it is important to add the correct sample volume.
Open the device just before use.
All reagents must be at room temperature before performing the test.
Do not use the test if the envelope is damaged or broken.
Do not re-use.
Do not use reagents after the expiry date.
The quality of each component of the kit has been individually assessed for each batch. Do not mix components or reagents from kits with different batch numbers.
DOCUMENTATION FOR THE VETERINARY
DOWNLOAD PDFInsert UT Parvo-Corona
* This information is available only to veterinarians. Clicking the download link declares that possess appropriate qualifications to access the content..
Frequently Asked Questions
Simultaneous detection of the parvovirus (CPV) and canine coronavirus (CCV) in faeces.
The canine coronavirus has been shown to be a much more frequent pathogen than believed. Many clinical symptoms compatible with parvovirus were shown to be actually caused by canine coronavirus.
Being able to conduct a joint diagnostic of parvovirus and coronavirus hugely facilitates prognosis and making clinical decisions. Furthermore, co-infections by both viruses are more and more frequent.
The swab supplied is inserted into the anus, in an attempt to collect leftover faeces that are always found adhering to the walls. A small amount is sufficient to make a determination.
The Parvocorona Uranotest is highly sensitive and can detect very small antigen levels, so it is not advisable to use a large amount of faeces. To the contrary, if we use an excessive sample volume or if it has particles that are too thick, this may interfere in the migration process of the sample. If you have used an excessive sample volume, mix well, wait a minute for the thickest particles to sediment and take the sample from the supernatant.
The appropriate sample volume is described in the kit's insert.
Samples must be analysed within a few hours after collection. They may be refrigerated or frozen, but the parvovirus and coronavirus diagnostic loses al interest if not performed immediately, since its value is not only for diagnostic purposes, but also for a prognosis and to make decisions as to the treatment to be followed: need for hospitalisation, fluid therapy, etc.
Between 5 and 10 minutes, you can read with total reliability.
20 minutes after doing the test, degradation and diffusion of the colours on the strip may occur. This does not happen with all tests, but the recommendation is that the test should always be repeated if the reading was not taken before the indicated time, since this may lead to an erroneous interpretation.
Uranotest detects early viral excretion much before haemorrhaging gastroenteritis appears. If you have a positive result with a dog that has been in contact with other affected dogs or that begins to have unspecific symptomatology, it is very possible that it may soon have haemorrhaging gastroenteritis.
No. The test detects the presence of antigens in faeces, and in the event that viral antigen excretion takes place after vaccination, it is not released in a large enough amount to be detected by the test.
This is not very frequent. However, if the dog comes to the clinic at a very late phase in infection, the viral excretion through faeces may have stopped, and antigens are therefore not detected.